Jodie Becker

Growing up I loved to read. To me it was a great form of escapism where I could journey to far off places in the past, the future or alternative worlds. My passion for reading morphed into writing very early on. As I hit my teenage years, my favorite authors ranged from Dean R Koontz, Anne Rice, David Gemmel, Terry Brooks, David Morrel and Johanna Lindsay. Despite all the different genres I enjoy, I loved reading romances. While not chasing down my daughter during the day you'll find me on the computer penning new stories with heroines that kick-ass and heroes that aren't afraid to stand up to her.
www.jodiebecker.com
Blood Lust
Jodie Becker
Her fight for survival will be nothing compared to her fight for love.
The Ripple Effect: Dane

Jodie Becker

For her love and life, he'll do battle with the god of chaos himself.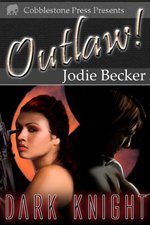 Dark Knight
Jodie Becker
A hero like no other will rise above it and save them all.